Distribution of Revenue
Distribution of Revenue
National Lottery operator Ithuba uses all of the money raised from the sale of PowerBall tickets to cover costs and give back to the citizens of South Africa. Half of the revenue is used to pay out prizes, while another third is allocated to the National Lottery Distribution Trust Fund (NLDTF), which benefits arts, culture, and heritage initiatives across the country.
The remaining money is used to cover costs and pay retailer commissions. You can see exactly how the lottery's revenue is split below.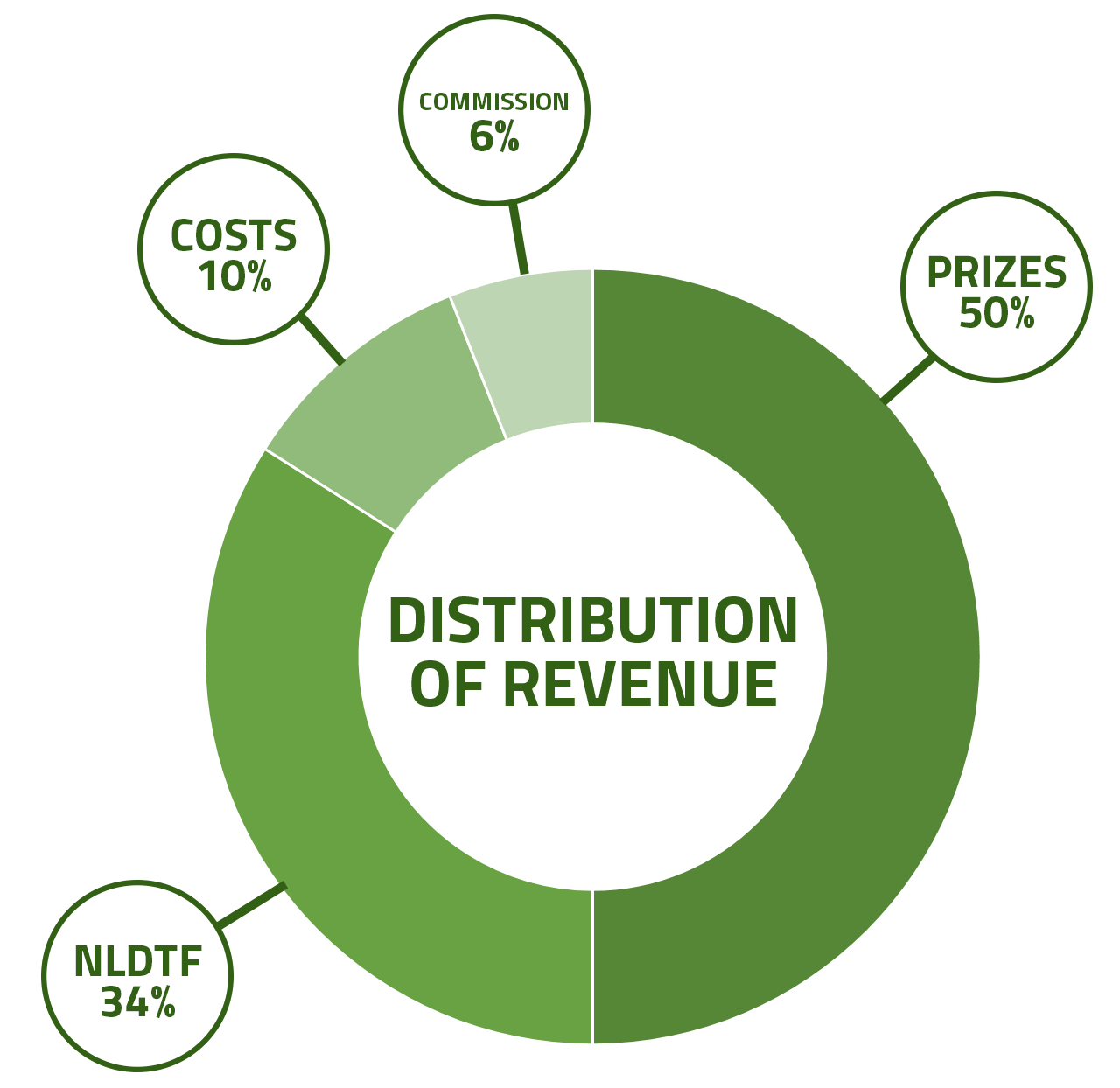 The 50 percent that goes into the prize fund covers all payouts, with each prize category receiving a certain percentage of the money, apart from the bottom two prizes, which are fixed cash amounts. See the Dividends page for more information.
Costs include any other expenditures required for the operation of lottery games, such as employee wages, goods and services, and administrative expenses. Retailers receive commission from Ithuba for selling lottery tickets and for paying out prizes.
Time Left to Buy Your Tickets
Estimated US Powerball Jackpot*
Why not enter the US Powerball?
Play

Online
*Cash Amount: $47.1
Million
National Lottery Distribution Trust Fund
The NLDTF was established in 1997 when South Africa's Lotteries Act was passed, and since then its purpose has been to disburse funding to charity, sports, arts, culture and national heritage initiatives around the country. Additional legislation was passed in 2013 to further define what happens to money allocated to the fund.
Thirty-four percent of all lottery revenue is earmarked for the fund, with over R1 billion transferred to it every year. That money is split among several sectors as follows:
| | |
| --- | --- |
| Charities | 47% |
| Sport and Recreation | 28% |
| Arts, Culture, and Heritage | 23% |
| Miscellaneous | 2% |
Charities
Almost half of the money in the fund is distributed to charitable organisations. Funding is handled and applied for through South Africa's National Lotteries Commission, and organisations must meet certain criteria to be eligible. Their activities must improve the quality of life of local communities or assist disadvantaged and underprivileged citizens.
Regulations stipulate that at least 50 percent of the money going to charitable causes must be spent on organisations that provide the following services:
Home-based care services for ill people, the elderly, and vulnerable groups
Facilities for early childhood education and adult literacy
Vocational training for people with disabilities
Sport and Recreation
South Africa's National Lotteries Commission also places great importance on developing sport and recreation in the country and has distributed billions to projects in this sector in recent years. Funding is open to sporting institutions at all levels, from grassroots clubs to national organisations, as long as they help promote sports and recreation within communities. At least 50 percent of the funding in this sector must be allocated to projects that aim to do the following:
Develop sporting facilities in remote and rural areas
Increase accessibility to sports and recreation for all people, including people with disabilities
Arts, Culture and Heritage
Another big portion of funding is directed to organisations involved in promoting and preserving the arts, culture, and national heritage of South Africa. That could mean anything from making arts more accessible to promoting under-appreciated and under-supported art forms. At least 50 percent of this money must be allocated to the following areas:
The promotion of traditional forms of cultural expression
The promotion of arts produced by women and people with disabilities
The development and preservation of cultural heritage sites
Training and support for female farmers
Previous projects to receive funding include the Mapungubwe Arts Festival, which is a two-week celebration of arts and culture held in Limpopo, and the Miriam Makeba Centre of Performing Arts at the University of Fort Hare, named after the famous singer and anti-apartheid activist.
Miscellaneous
A small part of NLDTF funding is allocated to other charitable or non-profit organisations that do not fall into one of the above brackets. Applications for funding can be submitted at any time, but applicants are required to provide documentation proving their legitimacy as a non-profit organisation and describing how the money will be used. Most importantly, applications must show how the project will benefit communities in South Africa.